Welcome to Panoply House of Publishing LLC
Panoply House of Publishing LLC is a company that specializes in quality non-fiction publications including history, memoir, biography, inspiration and education.
---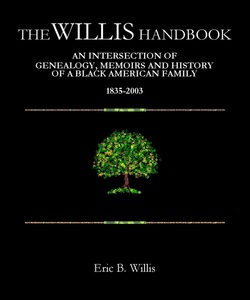 The company's first book release titled
The Willis Handbook: An Intersection of Genealogy, Memoirs and History of A Black American Family - 1835-2003
is available for purchase
.
Since its release in 2014,
The Willis Handbook
has been acquired to become a part of the following and noted institutions' collections:
Allen County Public Library (Fort Wayne, Indiana)
Bloomfield Hills Schools - Public School District (Bloomfield Hills, Michigan)
Bloomfield Township Public Library (Bloomfield Hills, Michigan)
Buffalo & Erie County Public Library (Buffalo, New York)
Charles H. Wright Museum of African American History (Detroit, Michigan)
Commerce Township Community Library (Commerce, Michigan)
Detroit Public Library (Main Branch - Burton Historical Collection) (Detroit, Michigan)
Harvard College Library (Cambridge, Massachusetts)
Library of Congress (Washington, D.C.)
Library of Michigan (Lansing, Michigan)
Lincoln Park Public Library (Lincoln Park, Michigan)
Mercedes-Benz Library (Farmington Hills, Michigan)
​Michigan State University (Main Library) (Lansing, Michigan)
Mid-Continent Public Library (Independence, Missouri)
Mississippi Department of Archives and History (Jackson, Mississippi)
Newberry Library (Chicago, Illinois)
New England Historic Genealogical Society (Boston, Massachusetts)
Peter J. Shields Library - University of California-Shields (Davis, California)
Robert W. Woodruff Library - Atlanta Center University (Atlanta, Georgia) - consisting of Clark Atlanta University, Morehouse College, Morris Brown College and Spelman College
Stanford University Libraries (Stanford, California)
William P. Faust Public Library of Westland (Westland, Michigan)
For more information about this publication and any other upcoming publications, please visit the Books page.
---